"The best antidote I know for worry is work. The best cure for weariness is the challenge of helping someone who is even more tired. One of the great ironies of life is this: He or she who serves almost always benefits more than he or she who is served." – Gordon B Hinckley
I have had the pleasure of being able to serve others most of my adult life. Every step of the way, I have received more than I give. When Wayne mentioned George's idea for helping those in our community who need food or even just someone to talk and check in with them, I was a little bit hesitant. Don't get me wrong, I want to help. But time. I just didn't think that I had time.
Have you ever said that? If I only had the time. If I only had more time, but what a great idea for the Gratitude Grant!
Well, I decided to push that thought to the side and say yes, I will help, what do I need to do? What door do I need to walk through to do this? Wayne helped me to get the information to fill out the grant paper work. We filled it out and made a plan. The plan was to help those in our community in need and spend some time with them. Bring them some food that would help them out while we stay and have a hot meal and play a board game. Talk with them and get to know them. Just be with them.
I have to tell you, I was a little bit unsure of what to expect. I can say that the fear I had a month ago is gone. I have had the pleasure of sitting with individuals at
Aspen care
, Good Sam (both locations) and just out in our community. To see someone's face light up when you stop in to share hot chicken and sides with them and just talk, it is quite a feeling. Sometimes, they don't recognize you due to the medical diagnosis they have, but you know it is doing good. To date we as Elks have helped over 55 people to have a good meal and have a little extra to put in their cupboard. Sometimes I take their request for an item and get it for them. One man wanted fresh coffee beans so he could grind up his own coffee in the morning. Reminded him of his father. Another wanted a home cooked meal.
So, I bought hamburger and potatoes and made a meatloaf and mashed potatoes.
I have found that I lose track of the time I spend with each person. I get caught up listening to the days gone by. How each of them grew up, the struggles they faced, the triumphs they had. I find that my earlier complaint about time was selfish and petty. I am better for this project. I feel that I am grounded more in my own life for taking the time to help others. Not in a selfish way, but in a true, spiritual way. We are all human. We need, we long for that sense of being. To be loved.
I know that this project isn't for everyone, but if you have the time, even just thirty minutes, and want to make a difference, I implore you to think about this opportunity. You don't even have to buy the food. I can do that for you. I can set up a time for you to go with me if tha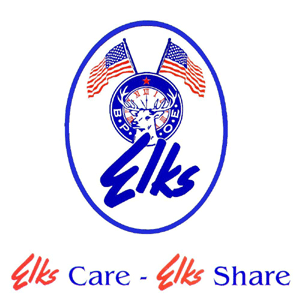 t would help. I can say with absolute certainty, you will not regret it!
If you would like more information on how to help, or to find out how you can donate to this cause we as an Elks lodge have taken on, you can always contact the office and they will pass your message on to me. Again, I can tell you with absolute certainty, you will be blessed by this. Maybe even more than you realize. All you need to do is open the door to this opportunity and walk through. Happy walking.
Rick Sperry – Inner Guard