Hello Fellow Elks!
Gratitude.  This year has been amazing so far.  We have had a beautiful winter, we are leading into a beautiful spring and one can hope a warm, not hot, summer.  Those are some little things to be grateful for.  Some of the bigger things are health, family, friends, work, and community.  We all have a lot to be grateful for.  I know we all have had a tough time here or there, but overall, we should feel grateful.  One need to only look outside and see the beauty in our community.
If you had the pleasure of attending the officer installation, your heart would have been filled with gratitude.  Janey was back and able to continue her duties to the lodge.  Travis handed over the ER position with grace after a year of hard work and many successes.  Joel accepted the position as ER and has some wonderful plans already for our lodge and ways for us to grow.  Seeing so may PER's and other Elks from other lodges assemble in one place was great.  It showed how much of a brother/sister-hood we have.  Our ties run deep,  as well as our gratitude towards one another.  However, on this night, I was in awe of our Elk of the year, Corey Ray.

  The look on his face when it was announced was priceless.  He was in shock.  I am not sure why!  He has worked so hard to benefit not only our lodge, but our greater communities as a whole.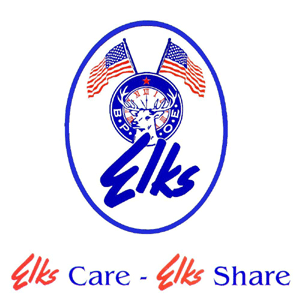 Corey has been a vital instrument trumpeting what our lodge values are.  He works to better not only Elks, but leaders in out community.  Anytime I have had a question or needed assistance, he has been there to help.  I am sure you can think of a time or two yourselves.  You have heard the phrase, "He's a man's man," well, Corey is an Elk's, Elk.  He embodies our goals as a lodge and an organization.  When he walked up to the lectern, you could see his heart.  He was so surprised.  He had tears in his eyes.  He may tell you it was hot, or allergies had him for a moment, but it really was a beautiful thing. He stood up there and claimed he did not deserve such an award.  He was grateful but did not deserve it.  Well Corey, I have to say, you do. You work so tirelessly to help others and to make them better.  You lead when it is needed, you help where you can at all times, and you push when that is needed as well.  You sir are an Elk's Elk.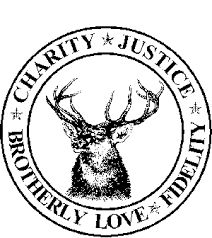 I am grateful for your leadership.  I am grateful for your friendship.  We as a lodge should be as well.  You are a shining example of what we should aspire to be in this lodge.  Thank you for all you have done to remind us of the oath we all took at our initiations.  For leading by example in showing us what it means to be an Elk.  I am grateful for that and I am sure all members of our Elks lodge would agree.  Thank you, sir.  Thank you.
Rick Sperry,
Esquire