It Rained — and then it Poured
Tuesday evening —
Looking up 7 fairway toward #7 tee an d #6 green

Looking across #7 green & #1 green toward #2 & #9 fairways

Wednesday morning —
Golf Course Superintendent Trent Brown hosing off some of the silt left on the front of #7 green.  The water covered all of #1 green and all but the highest far back portions of #7 & #8 greens.  Essentially all of #7 fairway was under water from either the South Fork of the Palouse or the drainage ditch along the north side of the course.  The waster reached the base of the hill on #2 and #9 fairways and reached the top deck of the bridges over the creek.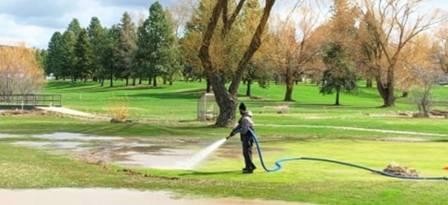 The flooding left up to an inch of silt in several areas which we are dealing with.  We will see the effects of this weeks floods  during the early season, but we dodged what could of been much worse when the water only crested for a relatively short time.
With the predictions of more possibly heavy rains in the next few weeks, we will all be keeping our fingers crossed.