Welcome to the Elks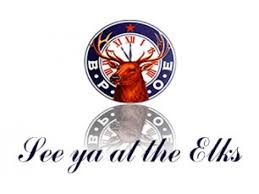 Welcome to the Elks and I literally mean welcome "into" the Elks Lodge.
The chilled weather is a damper here of late but the Bar/Dining is still open for business.  Come on out and we will visit over that Bacon cheeseburger and a cocktail!!
It's been a blessing to work these past 6 months and our future goal is to stay open throughout the winter months.  Your support is greatly appreciated.  My 1st challenge to you all is please RSVP for TACO TUESDAY night, which is the 8th of October, and bring a guest with yo
u!  We intend to continue with further Tuesday night dinners as well as continuing our Friday night Steak/Salmon dinners.  This brings me to my 2nd challenge, please RSVP by 3pm on Fridays and don't forget to bring a guest.
In closing, I remind you of our Craft Bazaar on Nov. 16th.  Tables are still available to sell your unique craft.
Cheers,
Bobbi Ross, Bar/Dining Mgr