Greetings Fellow Moscow Elks Members:
January has already come to an end and we will be approaching spring and golf season hopefully pretty soon.  It was a quiet month but will were still accomplishing our tasks at hand. 
January 11th, we had our Elks Hoop Shoot at the HIRC Center.  It was unfortunately very poor weather conditions, as you recall the amount of snow we got, which in turn our turn out was not as good as we hoped for.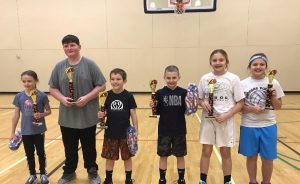 However, the kids that did make it had a very good time and received basketballs and some a trophy. And, more good news, Carter Sexton from Tekoa, having won the 10-11-year-old boys age group, will be representing our Lodge at the State Hoop shoot! I would like to thank all of our volunteers that came out and helped.  Hopefully next year we will have a better turn out, weather permitting.
We just completed this year's Gratitude Grant.   A check for $2000 was given to Gerard Connelly, President of St. Vincent de Paul at the lodge meeting on January 8th.  The recipient was very grateful and expressed how the timing was just right to help out a family in need this time of year.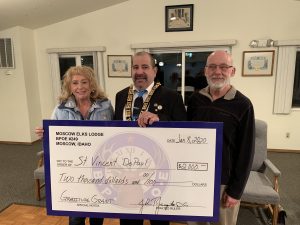 Saturday, February 15th is our annual Crab Feed.
Members and guests are welcome to attend.  The menu consists of crab or prime rib, coleslaw, baked beans, roll, and desert. Social hour starts at 5pm with dinner to follow at 6pm.  Please RSVP by February 7th by calling 208-882-2577 week day between 9am and 12pm.  The cost is only $30 per person and we will have Casino Night after the dinner.
I hope everyone is in good health and I hope to see you at the Crap feed.
Happy Valentine's Day everyone.
Joel T. Jaureguito, D.C.
Exalted Ruler