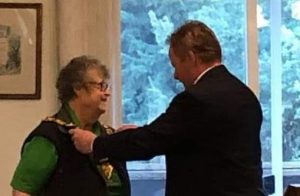 Moscow Elks golf course is open, to play, weather permitting. Cory See, our new greenskeeper, has assessed the course and has it ready for play as our Palouse spring conditions will allow.  We all need to be out in the sunshine and having some emotional relief from this mind-blowing corona virus.
We are concerned about transmission so we are taking steps to minimize contact.  We recognize that the healthiest thing we can do is get all of us on the golf course as soon as possible.
Remember, wash your hands, keep your distances and if you begin to feel ill, stay home. We are all looking forward to a prosperous year with our Elks friends and family and this will all be over.  Looking forward to getting back to normal, lodge meetings and dinners.
Janey Wineinger,
Exalted Ruler