Our golf course is open — 
with modifications for our members' safety under Covid-19 protocols
This is not a normal spring.
Our golf course is open with proper social distancing — members only — no guests or public play.  Driving range is open also under same restrictions.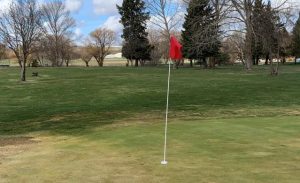 The lodge office will be open 8:00 AM till noon each weekday and bar/dining will be available noon till 5:00 PM on weekdays and 9:00 AM till 5:00 PM on weekends  dependent on the weather.  Payment by credit card or check for golf, if not a season pass holder, and for food and drink is encouraged.  We are trying to avoid cash transactions as much as possible.
Please call in your food and drink orders from the course (208-882-3015) and we will have them for you at the door.   We are endeavoring  to keep the facilities open for our members, to the extent we can, and still protect their health, and that of our community.  Help us by maintaining social distancing while enjoying a respite from "at-home-lock-down".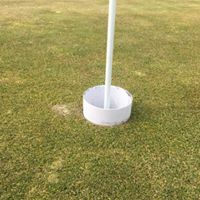 Our holes are set with the liner above the surface of the green to keep balls out of the hole.  This is intentional to eliminate the need to touch the flag-stick when removing the ball from the hole and thereby minimizing the possibility of exposing golfers to the novel coronavirus.
The United States Golf Association has adopted rules for these situations — basically they say "if you think it should have gone in — it did" and "if you think it shouldn't have gone in — it didn't".
In all of these instances, when the ball is not holed per the Rules of Golf (Rule 3.3c), a round played under these conditions will result in an acceptable score for handicap purposes using the most likely score guidelines (see Rule 3.3 of the Rules of Handicapping).  
When using most likely score, the player should consider the number of strokes most likely required to complete the hole, and determine whether the ball would have been holed or not.  Most likely score is at the player's best judgment and should not be used to gain an unfair advantage.   
This measure is temporary and in effect within the United States until advised otherwise by the USGA.
Play golf, have fun, and be SAFE!