Thanks to the all the folks who are going the extra mile in helping our new Golf Course Superintendent get the course up and running in what always is always a difficult time dealing with "spring on the Palouse", but with the additional handicap of being new to the course and the club and then add in the unprecedented Covid-19 conditions to adapt to and work with.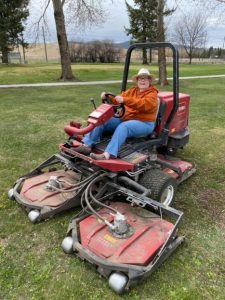 Volunteers like Janey are helping us get through this.
Exalted Ruler Janey Wineinger practices her newfound skills as a rough mower.