Thank you to all of the volunteers that have been helping a tremendous amount to get the course up and going.
My main focus this year will be the greens.  We are battling two formidable foes on the greens that do not go away  easily.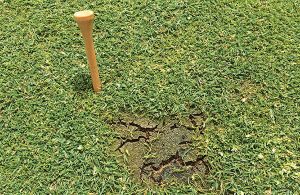 They are silver thread moss and fairy ring.  Through a number of spray applications, aerifying, and verticutting we will hopefully get a good handle on both of these foes this year.  This process will show a lot of progress this year.  Ultimately it will take several years to completely eradicate these pests and the greens will get progressively better each year.  Please be patient with us this first year as we tackle these problems head on.  Just remember that anytime you see agronomic disruption on the greens that we are improving the greens and on our way to making them the best greens on the Palouse.
Thank you again for your patience and help.  As always if you would like to volunteer please let me know, I would love the help.  Also contact me if there is a certain project that you would like to head up.  Thank you!!  My family and I are delighted to be here.
Cory See,
Course Superintendent