---
It is so nice to feel so positive about our Lodge!  Even in the midst of the Coronavirus, we have been blessed!  The weather in April was the best I have seen in years.  So often the weather is cold and wet and barely warm enough in May.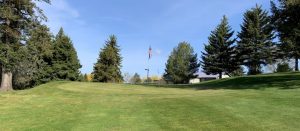 We were so lucky to be able to open the golf course for our members so they could get outside, get fresh air and exercise and some social time.  Everyone has been pretty good about social distancing.  We all need to keep that in mind as we continue to flatten the curve, although it seems pretty flat here in Latah County as
we still only have four cases (at the time I write this).
Member dues have been coming in at a record rate and I thank you so much for that.  It makes that part of my job easier and helps us meet the financial requirements of the Lodge.  If you have not paid your dues, please get them in.  We, sadly, had to drop 20 members on March 31st for non-payment.  We did have one of them re-instate and that
is great news!  If you know of a former member that would like to rejoin, let me know or send them out to me.  We have four new applications and as soon as we start having meetings, they will be initiated.
  Governor Little will soon, or has opened the economy somewhat and we hope to be able to start having meetings in May — perhaps may 27th.
As soon as I get the word, I will send out an email.  Which reminds me, if you are not receiving emails from my office, it is because I do not have your address.  If you like, let me know and I will get you on the list.
Stay safe, come on out and enjoy the weather but please, use common sense, follow the rules and do what's right! 
Wayne Krauss,
Secretary, PER