Course Improvement Tournament Results
A Huge thank you to all of you for coming out and donating beyond what we ever could have expected.  The tournament was a great success for our golf course, restaurant, community and golfers!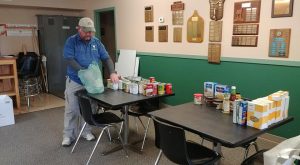 Everyone enjoyed what started as a chilly morning helping us get 2 HUGE boxes of food for the food bank as well as a cash donation of $165!! 
We were able to give out $570 worth of gift certificates for the bar and dinning area to winning participants.  Attached is are the full results for all teams in the tournament. Below are the winning teams.  All winnings can be collected from Bobbi at the bar. 
TWO GIANT THANKS YOUS, to Cory and Bobbi for helping the tournament go so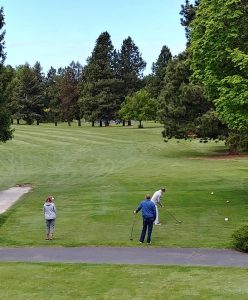 smoothly.  Everything is looking so nice out on the course and the playing conditions continue to improve weekly!  Bobbi is working hard to keep fun and different things happening around the club house.  Make sure to go out and try some of the fun games she has available.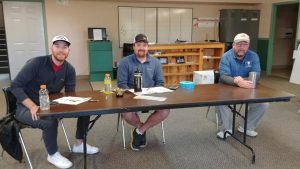 As for the Course Improvement side of the the tournament.  It was our hope to raise enough money to get new yardage signs that are unique to our course and mounted on the trees instead of on the ground.  This will hopefully help them stay in better condition for a longer time and to save time for Cory and his staff when mowing. We have certainly reached that goal, raising $540.  This will be more than enough to cover the expenses of the project and get us started towards our next project.  These signs are being ordered and will be up soon!  You can see where some of these signs will be around the course.  They have been marked with bright pink ribbon. 
MENS
Place 
Score 
Payout 
Name
Name
T1st
34
$63
Jerry Curtis
Kevin Peterson
T1st
34
$63
Erik Johnson
Cody Wood
T1st
34
$63
Bill Myers
Colin Briggs
4th
35
$20
Tim Racicot
Alan Wright
T5th
36
$5
Ken Pederson
Riley Pederson
T5th
36
$5
Jackson Uhrig
Mike Parsons
MIXED
Place
Score
Payout
Name
Name
1st
37
$100
Kathy Weber
Bill Lambert
T2nd
40
$40
Laurie Hopkins
Dennis Wilson
T2nd
40
$40
Jane Abendroth
Marv Bieker
T2nd
40
$40
Mary Manderscheid
Bev Rhoades
T5th
41
$10
Carole Jones
Jack Jones
T5th
41
$10
Kathy Christian
Ken Jordan
JRs
Place 
Score
Payout
Name 
Name
1st
35
$60
Alison Dorigo
Sean Dorigo
2nd
40
$20
Tanner Fealy
Butch Fealy
KP's
$5 EACH
#5
MENS
Kevin Peterson
#8
LADIES
Jane Abendroth
#8
JRs
Tanner Fealy
Long Drive #6 $5 EACH
MENS
Erik Johnson
LADIES
Kristie Mattoon
JRs
Brock Fealy
Thanks again to all who came out, we will be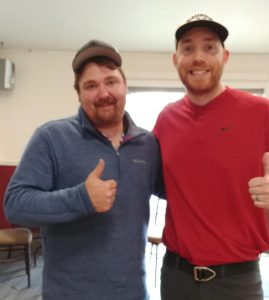 having a few of these types of events in July. June is full of Sole Survivor Qualifiers so watch for those emails this week as well.
See you out there,
Bill Myers