Fathers Day Scramble Results
A huge thank you to everyone attending the Fathers' Day Scramble.  You opened your generous hearts to make our 2nd annual Fathers' Day tournament a tremendous success!  It was a wonderful day to celebrate fathers and spend time with family and friends while raising $2000 for Idaho Special Olympices
 (25% to Idaho Special Olympics and 75& stays locally wilth our Moscow Rebel Tiger Team).
Prizes were given out to the youngest father, Colin Briggs and oldest father, Jack Nelson.  Kristie Mattoon sunk the long putt and closest to the
"tie" was Carole Jones.  The team winning the tournament with a score of 29 and 8 putts was Colin & Alison Briggs, Chuck Labine and Bill Myers.  Each winner received a golf sleeve and a $25 gift card (Applebee's, Home Depot, Subway, Auto Zone or Buffalo Wild Wings).  If you did not receive your gift Sunday, I left it at the bar for you to pick up.  All fathers were honored with a free drink!
Kaylynn See graciously donated 43% and her commission for boxed greeting cards to the Special O.  Casey Leachman designed 11 hats which brought in $275.  Tyson showed up with a box of yummy donuts!  A special thank you goes out to a gentleman that donated; you touched my heart with your compassionate donation for our special Olympians!
Again, thank you, thank you, to everyone!  See you again next year!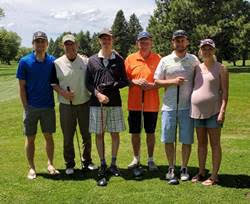 The Nelson Family