---
As I write this article, it is September 28th and the weather
today and the rest of this week is forecasted to be in the 70's, the air is pure with no smoke —- wonderful fall weather.
As I sit here, looking out my office window, I begin to forget all the problems going on in our country right now.  Now, we are having more turmoil, criticism and dis-respect within our own community. 
It's not easy being an elected official.  I can tell you right now our Mayor and Council members are thinking to themselves "I didn't sign up for this crap!".  Trust me when I tell you they are doing the best they can!  It is very difficult to make a decision that is best for the community when there is so much conflicting information.  Yes, wearing a mask is uncomfortable and inconvenient.  I have read the data that says wearing a mask is unhealthy (how do surgeons wear theirs for hours at a time when working — is it causing health problems for them, no, is it a different kind of mask?).
I don't have the answers.  I have read so much I feel I have information paralysis.  But I know this — we must continue to have empathy for each other.  Agree to disagree and move on.  This is NOT the new normal.  It is temporary, we just don't know how temporary.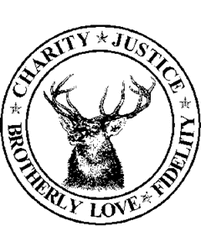 When you went through Initiation, you stood before the Leading Knight as he recited the story of Charity.  Remember the last sentence — "This legend teaches us that Charity is the greatest of all the virtues; and that it should ever rule us in our hearts and in our lives, leading us to speak no unkind word, to harbor no evil thought, to bear no malice, to support no wrong; but to nurture, love and protect; to condone, forgive and forget".
OK, I'm off my soap box now — have a great month!
Wayne Krauss,
Secretary, PER