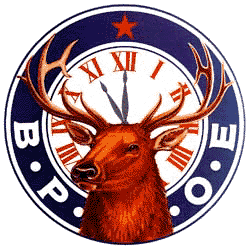 Most of you might have heard that the porch section of the lodge residence caught fire.  Due to large scale smoke and water damage, the house is uninhabitable at this point.  Cory and his family are safe, in alternative housing until we can sort out how we will proceed with renovation and upgrades.  It is not going to be a fast fix, but your Board of Directors is working on all aspects of coordinating with our insurance company.  There has been a generous outpouring of help from many members, including the Ladies League and others, for the displaced family of seven. "Elks Care, Elks Share".  We will keep you advised as we progress. 
I have slim comments this month.  Golf is over for now, (unless you have snowshoes).  Cory was going to establish temporary greens and it might still happen if the snow melts. We don't want to damage our wonderful greens. 
Our Past Exalted Rulers sponsored the Octoberfest on the 24th.  We had a few less than 25 attend due to Covid restrictions and the weather, but it was fun gathering none the less.  Great German inspired food, featuring suarkraut, sausages, salads and smoked pork by smoking specialist PER Travis Mechling with help from Joel Juaraquito and his wife.  
Coming up the 6th and 7th of November, Sandpoint Lodge is holding the Idaho State Winter Convention.  I am attending and a couple of others might participate via Zoom.   
November 11th, Veterans Day, we are welcoming our District Deputy for an official visit.  Hope to see you in Lodge.  Thanksgiving is the 26th.  Wishing you health and your family a blessed holiday and a great distraction from this crazy year. 
Janey Wineinger , Exalted Ruler