Looking back at the year of  2020 we can be amazed at what our Lodge members have
accomplished despite Covid.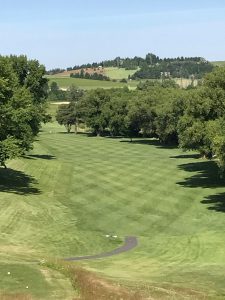 We hired a new Greenskeeper in the Spring.  Cory and his family settled in, got to work and produced the best course conditions we have had in recent memory.  Bill Myers and the golf committee worked overtime to provide tournaments that kept members and guests entertained.  We chose to limit participation in Lodge activities, both golf and bar and dining, to members and guests only.  Previously, nonmembers were allowed up to five complimentary visits before becoming members but due to Covid we felt it was best to change.
Lodge meetings were suspended for a couple of months but the Board of Directors was able to meet and approve monthly bills in a timely manner.  Membership grew to four hundred and ten last month.
Beacon and Spotlight grants were applied for and approved by the Elks National Foundation.  Donations from our members made these grants possible.  Thirty-five hundred dollars were shared with
CHAS Health and Sojourners Alliance
which
provided aide to the homeless and indigent population with emphasis on Veterans care.   Currently, several officers are putting together homeless essentials bags to be distributed to law enforcement and homeless shelters.  A grant providing fly fishing opportunities for Veterans has been reapproved.  Elks Share, Elks Care.
The handgun raffle came to a conclusion just before Christmas.  We cleared nearly Nine hundred over and above the purchase of the firearm despite restrictions on sales.  Nate Sletteland was the happy winner.
The new year is upon us and we are eagerly looking forward to normalcy when possible and anticipating several yearly activities this Spring. 
Lodge attendance is restricted to Officers only at this time.
As your Exalted Ruler, I pray for your good health and prosperity in the new year.
Janey Wineinger
Exalted Ruler