Elks Golf Club — 1949 season —
"Lady Elks" and Exalted Ruler's Cup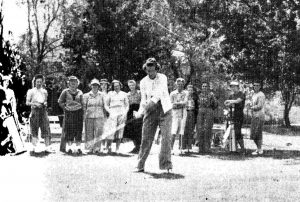 Thursdays were ladies' days and up to 80 women participated in leagues and "guest days" with neighboring golf clubs.  The Moscow women placed second in the prestigious Clarkston Team Invitational, among a field of 16 teams.  The Moscow team was made up of Katy Rae Boyer, Thelma Collins, Maude Hunter and Mabel Locke.
Participation in regular weekday morning ladies' leagues remained high for decades until the switch to predominantly two earner families left many ladies unable to continue to participate in weekend morning play.
The Moscow Elks ladies also hosted one of several Idaho State Ladies' State Amateurs that have been held on the Moscow Elks Course that summer.   The tournament was won by Joan Curtis.
On the men's side, the President Cup (aka Exalted Ruler's Cup) was won by Ray Kammeyer with Del Marner in 2nd and Merrill Green in third.