Here is wishing and praying all of our family is healthy and safe.  This is a time I am sure none of us is enjoying but hopefully we can resume life as we once knew it in short order.
The Board of Directors have been meeting, in person or choosing to attend by zoom, once a month to approve bills and other Lodge business.  Lodge meetings continue to be suspended as long as we remain in the covid stage that only allows ten or less to gather. We currently have several applicants for membership to be balloted and initiated but we are unable to proceed at this time.  Rules dictate we must have a quorum of nine to hold a Lodge meeting and with applicants present we would be over the ten allowed.  We will resume as soon as allowed.
I have been monitoring Elk Lodges all over Idaho and also most of the United States.  Most are operating the same as we are.  Some have more flexibility.  It is interesting how many are serving food and drink via "drive-by" trying to raise money, in these tough times while they cannot gather.  Many Lodges are suffering.  Our Lodge is blessed to have had a team of Trustees and our Secretary, both this year and those in previous years to keep us in fine shape financially.  We must have an election of officers and one trustee for the
incoming term to begin April 1st and nominations must be published in February and March newsletters.  We are actively seeking a candidate for Lecturing Knight.  New members out there, please consider becoming an officer, this is the "entry" position and you would surely be welcome.
We previously reported that we scored the Spotlight Grant from the Elks National Foundation in the amount of two-thousand dollars.  I am happy to report that Tracy Dorigo, Shelley Anderson, Tami Quezada and I will be wrapping up the packing and delivering of the bags to homeless shelters and local law enforcement for distribution to needy veterans and other homeless.  These bags are loaded with personal items, some food items, warm winter  accessories and other needs.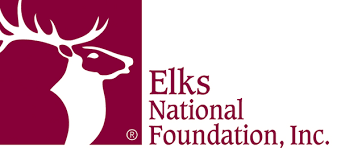 The bags themselves are embroidered  with "Elks Care, Elks Share".  This is a very rewarding project for us and by donating to Elks National Foundation, our members have made this possible.
I  am fervently hoping we can resume normal  Lodge  activities in the near future.  I miss my Elk family.  God speed.
Janey Wineinger
Exalted Ruler