Winter at the Elks Golf Course — 1982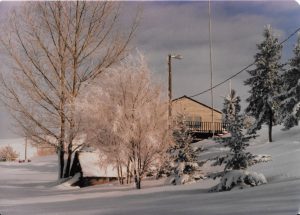 This was before the lodge moved from the old downtown location to the golf course.
The small building in the left foreground was the old pumphouse for a well which is no longer in use.  The side of the clubhouse that you see in the photo is the north edge of the current upstairs lodge room and tournament room downstairs which were added on when the lodge moved out to the current site.  Number four green extended to just to right of the trees on the right and the back tee for number one was paved over when the driveway was extended in front of the clubhouse.