Golf Course Opening Day — 1950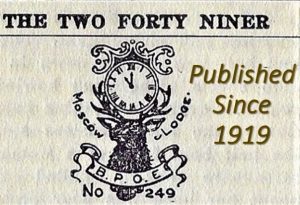 Golf Course opening day for the 1950 season saw lots of golfers getting into the new season, setting up league teams, preparing for competitions to come and just having a good time with good friends.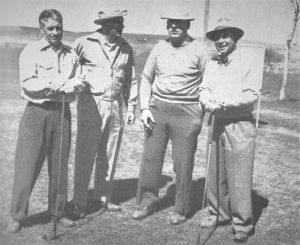 According to the accounts of the day, no one had more fun than this group, comprised of Oregon State basketball coach Ralph Coleman, Idaho football coach Dixie Howell, Washington State baseball and football coach Buck Bailey and Detroit Tiger's scout Bernie DeViveros.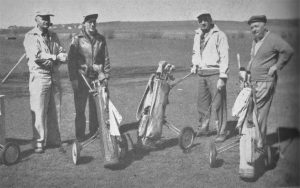 Another group that morning consisted of three of the original members of the old Moscow Golf Club when it was built, and had been playing the course, the present Elks course, since its inception. They are from left to right, Frank Kennard, Walt (Mac) McFadyen, Jim Wilderman and Basil Drew. McFadyen was the "newcomer" only moving here after WWII and starting his plumbing shop now owned by McCoy's.