Triplets — 1950
In the late 1940s "triplets" became part of the golf course culture.   
Two groups of three holes were placed half a cup width from the fringe and from the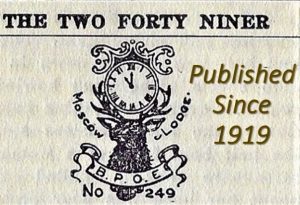 adjacent cup(s) at two distant parts of the putting green.  Participants would putt from one grouping to the other.  At completion of the hole, each competitor paid any competitor who holed a putt in less strokes than them the value of the hole where they had holed out.  If I were to take three putts  to hole out I would pay any competitor who finished with a two the value of the hole where their ball had ended up.  Hole values were a nickel for the leftmost hole, a dime for the rightmost and $0.15 for the center cup.  A one putt doubled the value of the hole.  If two players holed out in the same number of strokes but in different holes, the player in the lesser valued hole paid the difference to the player in the higher valued hole. 
S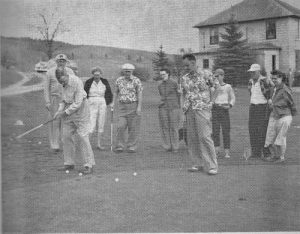 tymies were always in play.  If a ball blocked your line — you dealt with it.  If you moved a ball through contact with you ball, the contacted ball remained in its new position be that in the hole or down three concret steps to the old pumphouse that was located just east of the current putting green. 
In the early 1950s lights were installed at the east and west ends of the current lower putting green and the putting green itself was expanded to the south extending to approximately the current location of the memorial plaque near the residence. 
It wasn't uncommon to have a dozen plus players putting triplets into the late evening hours, particularly after Tuesday and Thursday twilight leagues.