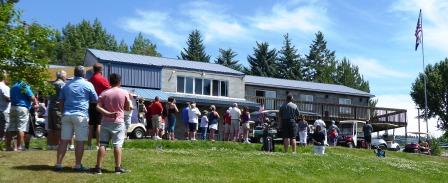 Happy 4th of July everyone and God Bless America! July finds the Elks in the busiest season of the year, with something happening almost every day of the week. Golf tournaments, dinners, and more…I strongly encourage all members to tune into the weekly emailed update from our awesome Activities Committee Chair Tracy Dorigo to keep up with all the goings on.
A great highlight came in this month…. the official numbers were in, and Moscow placed third in all lodges in Idaho for membership gain! We had a net gain of 27 members, with only Sandpoint and Coeur d'Alene pulling ahead with a gain of 32 and 81 respectively. Great work and let's keep up the positive momentum! If there are folks out there looking to join and they need some help with references or anything else, please let me know or direct them to Wayne or Tracy, we will get them squared away.
Key to our lodge functioning and ability to support our community are the Committees that coordinate and direct our Veterans, Youth Activities and Charity programs, among many others. There are many places on these committees that need engaged individuals to join and drive the good work forward. All interested members that would like to become more involved please reach out and I am sure we can find a great fit!
Lastly, I would like to congratulate our newly appointed Trustee Todd Martin, and Inner Guard Will Greene. It is humbling to be able to appoint great members like them to serve our Lodge and Membership, and I am absolutely excited to have their broad experience on the leadership team. The lodge cannot function without such great people stepping up to serve our members in these critical roles. I would strongly encourage all Members who have a thought about joining the Officers or Trustees to reach out and talk to those currently in these positions about joining and serving our lodge in these functions next year!
God Bless,
Benjamin McGuckin,
Exalted Ruler Moscow Lodge #249