Happy New Year
!   I always love this time of year because I am one of those people who truly enjoys the snow.  I realize that for most, the snow is a nuisance and it brings a lot of other issues, but I love it.   Growing up, snow was very rare in the Willamette Valley (outside of Portland)  and a light dusting was a treat because it usually meant schools would close and my parents would be home from work.  After spending my 10th December in Moscow, I realize how lucky we are to have a white Christmas and enjoy out door activities, like sledding with our kids.
 This time of year also allows for reflecting upon the past and looking forward to the future.  We have done some amazing things as an Elks Lodge.  
We have helped 45+ local Veterans with their PTSD since we started the Fly Tying program.   
We have given to a local elementary school the last two years to assist kids with their education, both in reading and improving physical space.  
We have rushed tons of food to our neighbors when it was needed.   
We have provided space so that our senior citizens of the community could have life screening performed and we have supported the local ALS charity foundations to raise money to defeat that disease.
 We served the local community for two months when we served hot soup on Friday nights downtown to those who needed and wanted it.   
We continue to support our local youth through the Hoop Shoot and Soccer Shoot programs, Junior Golf, Kids Carnival, scholarships, and Cocoa with Santa.
For 18 years, we have had members who continue to raise money so that we can go out and buy Christmas presents for kids who otherwise might not see a happy Christmas morning.  
We have done so much more… Our Lodge continues to be a "quiet" leader within our community, constantly giving and supporting without much fanfare or applause in return.  
As I look forward to 2017, I see great oppo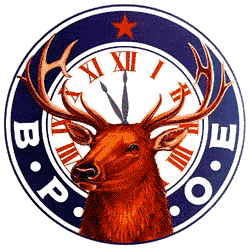 rtunity for our Lodge to continue the tradition of Sharing and Caring for our community.  I hope you take a moment and consider volunteering for one of our many programs and/or activities.  GET INVOLVED!  Get your friends and family involved!  In the end, you will reap the benefits and rewards for doing so.
If you have questions about getting involved, please do not hesitate in contacting me through the Lodge office.  Let's make 2017 the year of the Elk!!!!!
Fraternally,
Corey Ray
Exalted Ruler