Happy 90th Birthday Moscow Elks Golf Course!

*
As we all know, Moscow Lodge #249 is the oldest lodge in the state with a rich tradition of our members serving both in the State Association and for Grand Lodge levels.  I wanted to bring to your attention that Steve Meier has just finished his term as State President and Curtis Neely as State Secretary. Both men devoted a lot of time to serve Elkdom in our state and represented our Lodge with distinction.  Another one of our members, Jess Caudillo, will be ending his term as Grand District Deputy for Idaho North at this month's National Convention. I would like to thank all three members for their service and dedication to Elkdom.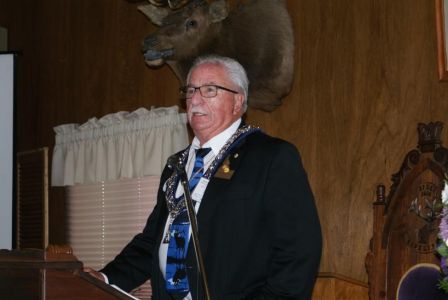 Although those three men may be stepping down, another member has risen to the challenge and was elected at this past State Convention as a State Trustee – Congratulations to Brad Anderson.  He will be serving a 5 year term and perhaps, one day, add his name to a long line of Moscow members who have served as State President.  (Hey, I am just saying – it could happen.)  
In other news, you will notice new dining room chairs have replaced the old plastic ones.  The chairs were a donation I was able to secure with the dining vendor, Sodexo, at the University of Idaho.  I need to thank my wife, Geri, for helping me clean them up and get them ready for the Lodge.  By the way, did you know that we have had those gold and black plastic chairs since 1966?  Let's hope these new chairs will serve us as well. 
Finally, as you may have read in last months newsletter, I continue to work with the Board and other officers to make improvements to our facilities.  A spot to install a fire pit has been proposed and I am working with a committee of members to outline the details that we will share on July 26.  If you are interested in learning more, I would encourage you to reach out to me directly or attend our Lodge meeting at the end of the month.  Have a Happy Fourth of July!!!
 Corey Ray, Exalted Ruler
________________________________________________________
*For additional information of the history of the course check out —
Golf Course Archives