Did you know the Elks National Foundation helps protect the children of Elks members? The Emergency Educational Grant program provides financial assistance to the children of deceased or totally disabled Elks, who wish to obtain or further their college education. The Elk parent or stepparent must have been a member in good standing for at least one year before they passed or became totally disabled.
For Kyle Bort, an EEG recipient and member of the Scholar Advisory Board, the Emergency Educational Grant was a life- changer.
"After my dad's passing in 2009, I was really unsure about my future," shares Kyle.
Finding funds for college daunted him. Yet, the Elks offered hope. He applied for and received an EEG from the Foundation. Financial support for college, was not the only thing he gained that day—he also gained a new family.
"It dawned on me, just how much the Foundation was family to me," says Kyle. "When I did not even know what the ENF was, they took a chance on me!"
There are other children of Elks who face challenges like Kyle's. We need your help to make college a reality for them. If you know a student who may qualify for an EEG, encourage them to contact the ENF office to request a scholarship application. Please call 773/755-4732 or email scholarship@elks.org. Emergency Educational Grant applications are due by October 31, 2017.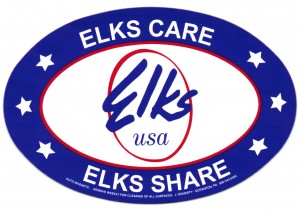 In 2017-18, the Elks National Foundation allocated $323,890 to fund the Emergency Educational Grant program for children of deceased or totally disabled Elks. If you know any Elks children who may be eligible to receive an Emergency Educational Grant, encourage them to visit enf.elks.org/eeg for information, including eligibility and deadlines.
for additional information see —
For an account of Kyle's reactions to attending the 2017 Elks' National Convention —
Convention Week — from the eyes of an EEG recipient