Message from the Exalted Ruler
Dear Members,
 The holidays are upon us and while we prepare to reflect and be thankful for what we have in our lives, I wanted to remind everyone that in the house of Elkdom, November is Veterans Remembrance Month.  Please keep our veterans in your minds and hearts. I would encourage all of you to thank those who served and those who support our veterans.  It only takes a moment out of your day, but it goes a long way for those we remember.   Thank you to all!
 While I on the topic of thanks, I wanted to take a moment and thank the Past
Exalted Rulers for putting on the Oktoberfest this past month.  I appreciate you all taking the lead in creating an event and experience for our members.
Our 2nd annual Cocoa with Santa will be on December 16 at 11 am.  If you are interested in helping with the kids' craft table, please contact us at elks249youthactivities@gmail.com  A great way to get involved for an hour or two of your time.
 Finally, I wanted to congratulate Wayne Krauss who won this year's raffle.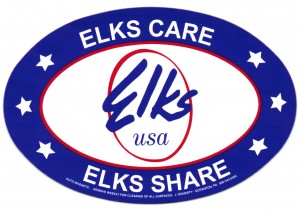 The prize was a $1,000.00 gift card. Wayne graciously donated $500.00 back to the Lodge.  Congratulations and thank you for your support/gift in return.
 Fraternally,
 Corey Ray