---
From the Desk of the Secretary
             Let me start by apologizing to those of you that receive your 249er by mail. I realize that by the time you get this, some of the events discussed have come and gone. Those of you that get it by electronic means got it on time. If you would like the newsletter in a more timely fashion, let me know and send me your email address in case I don't have it.
                We wrapped up a couple of raffles in October. The rifle raffle, which was actually a $1000 gift certificate, ended up showing a net profit of approximately $950. The quilt raffle netted over $200. While these were not huge fun-raisers this year, they will continue to help fund our various charities.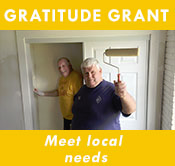 We are getting closer to meeting our ENF per-capita amount of $4.60 per member. It is important that we reach our goal of $1800. Once we meet this quota, we then qualify for a $2000  Gratitude Grant. This year we partnered with University of Idaho Housing and Residence Life in their "Paint the Palouse" program. This great program gets dozens of U of I students and staff together to paint a number of homes belonging to elderly, disabled vets and others that are financially or physically incapable of doing it themselves.
Oktoberfest was a great success! Participation was better than expected and we had a number of members come out that we had not seen for a long time! Many of them brought guests and everyone enjoyed the food and special drinks available. Thank you to the PER Association for sponsoring this event. It raised money for our youth and veterans' charities as well as more money for ENF. Next up, the wine tasting party on November 4th. Call the office at 882-2577 for reservations!
 Wayne Krauss
Secretary, PER