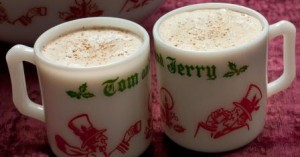 Our own Ed Townsend will be hosting the annual Tom & Jerry party on Saturday the 9th of December.
Tom & Jerry batter has been around for over 190 years but Ed has "only" been making it for the last 50+, (although he has claimed it may be 100).
He is getting pretty good at it.
Plans to be at the lodge any time from about 5:00 PM to around 7:00 PM on the 16th– you don't want to miss it.
Please bring  hors d'oeuvres to share.