The following is one of 5 first-person chronicles of our first 5 decades as a lodge, published in honor of our 50th anniversary in December of 1942.
________________________________________________________
FIRST DECADE
By George Weber —
BPOE #249 charter member & Past Exalted Ruler
– written in 1942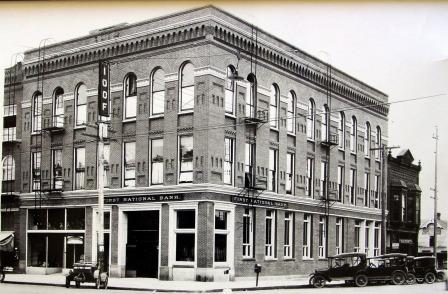 On December 28, 1892, with Exalted Ruler George Turner, of Spokane 228, presiding, Moscow lodge No. 249 was installed in the  I. O. O. F. Hall above the First National Bank.  It was the first Elks' lodge in Idaho.
Thirty-two charter members were initiated as follows:  (parenthetical notes added for this publication)
John Almquist —

(Tiler)

C. A. Ault
C. M. Brown — (Esquire; Assistant Cashier, Moscow National Bank)
R. S. Brown — (Treasurer; President, Moscow National Bank; Treasure, University of Idaho)
E. Buchanan —

(Clerk of the District Court, Latah County)

J. H. Forney —

(Exalted Ruler 1907-1902; U. S. District Attorney; Grand Master, Idaho District of Odd Fellows; Faculty President, University of Idaho; Chair, Board of Regents, University of Idaho)

J. A. Freund —

(Trustee)

A. J. Green —

(Exalted Ruler 1894-1895)

W. T. Griffin —

(Sheriff, Latah County)

I. Hattabaugh (leading knight; Exalted Ruler 1893-1894; President, Commercial Bank; Latah County Treasurer; Grand Master Idaho Masonic Lodge; Regent, University of Idaho)
R. Hodgins —

(Trustee; Owner, Hodgin's Drug Store; Probate Judge, Latah County)

J. E. Hughes
G. W. Hinckley —

(Inner Guard)

Frank Kelly —

(Exalted Ruler 1904-1905)

H. W. Liggett
J. W. Lieuallen —

(Exalted Ruler 1910-1911: Superintendent, Moscow School District)

S. J. Luce
W. B. McKenzie
D. C. Mitchell
Rev. P. Murphy — (Chaplain; Rev. St. Mark's Episcopal Church)
W. K. Renshaw
C. S. Scott — (Exalted Ruler 1892-1893; Cashier, Moscow National Bank;Deputy Supreme Chancellor of the Grand Lodge of Idaho, Knights of Pythias)
M. J. Shields — (owner, M. J. Shields & Company)
W. D. Smith
A. T. Spotswood — (real estate developer)
N. R. Stone
M. Tillinghast —

(Secretary; Manager, Moscow Electric Light & Power)

P. Tillinghast — (Loyal Knight; Chair, Board of Regents, University of Idaho; attorney)
Fred Veatch —

(Exalted Ruler 1898-1899; Exalted Ruler 1899-1900; apple grower & vinegar/cider manufacturer)

W. W. Watkins —

(Chairman, Idaho State Medical Society)

George Weber
C. F. Zimmerman
M. Chambers and W. V. Windus of Pullman, and Frank White, of Moscow, were the first candidates initiated after the lodge was chartered.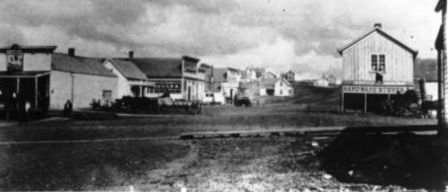 In the carefree and gay nineties, the hardy pioneers of the Palouse country took their fraternal and athletic events very seriously. For example, when the Idaho and Washington State College football or baseball teams met in friendly rivalry, a riot usually took place before the game ended.
Also, with a lack of modern conveniences, such as the auto, radio, movie, 'phone and good roads, the people had to content themselves with local dances, box festivals, church revivals and lodge "meetins'." Every small town had its Odd Fellows' Hall or Masonic building, and other organizations were active.  Initiations were rough in those days, and a maximum of horseplay prevailed.
Restricting the jurisdiction of an Elk Lodge, this drawing from a larger area, helped this Order to become strong in the town where it was located.  Another thing, its very first tenets preached the doctrine of enjoying the present life instead of waiting until one reached heaven to be happy.   Based  on patriotism with religious arguments strictly taboo, the Order was able to draw men from all walks of life for their mutual enjoyment and good fellowship.
As above stated, the first home of 249 was in the third floor of the First National Bank.  An elevator shaft had been left unfinished, so that in some future day a modern elevator might be installed.
One old timer recalls the night he was brought to the lodge for initiation by two good friends.  After the preliminaries had been completed, these friends slipped him in the elevator shaft on the first floor, and told him to hide there and thus avoid the rough stuff that would come later.  They locked the door, and he settled down on his chair thankful for such loyal and true friends.
While he was thus meditating on the nobility of man in general, footsteps approached the shaft, and one voice exclaimed:
"I can't find the dustpan; guess I'll have to sweep this stuff down here," and, to the horror of our candidate, he felt a shower of particles dropping on his head and shoulders.
While he was still flicking the dust off his clothes and hair another voice upstairs called out to someone on the same floor: "Blamed if I'm goin' to carry this junk any further; I'll just dump these bones and potato skins down here."  Another shower of miscellaneous articles glanced off his crouching body.  By this time our candidate was running a high temperature, and was almost apoplectic with rage.  He tried to tear down the door, but it was a well made structure and withstood all is efforts, both of a physical and vocal nature.
F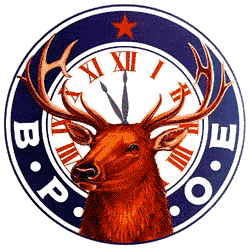 inally, the door was unlocked, and the initiating committee waltzed him upstairs, where he was given the works, with his two trusted friends leading the pack.  However, when the ceremony was over, he laughed with everyone else, and made it a point to be at succeeding "meetins"" to help out on other luckless candidates.