The following is one of 5 first-person chronicles of our first 5 decades of the lodge published in honor of our 50th anniversary in December of 1942.
________________________________________________________
SECOND DECADE
By Guy B. Wolfe – BPOE #249 Past Exalted Ruler
Written in 1942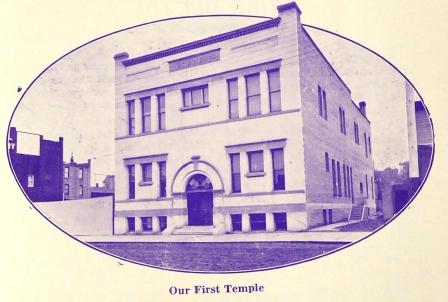 In May 1904 the Lodge, then meeting in the lodge room over the First National Bank, voted to erect a temple and a committee was selected to plan and erect it.  Plans were adopted and a contract was let to F. X. LeDoux & Son, for $13,586.00 for a brick building three stories in height on the lot north of the Frank White building at the corner of First and Main Streets.  Frank Kelly was the Exalted Ruler and the building was completed and furnished at an expense of $1500.00 additional under the term of Francis Jenkins in the spring of 1905.  The temple was financed by an issue of bonds subscribed by the members and every member with but few exceptions bought one or more bonds.  After the building was dedicated a majority of the bondholders surrendered their bonds, leaving the lodge  indebtedness less than $8000.00 in all.  Membership increased from less than 200 to approximately 600 in the ensuing five years, although Lewiston Lodge was instituted taking some 60 members from the roll.