1957's golf course planned revision
Harry Graser, pictured here in the fall of 1957 piloting a cat, is one of many golf enthusiasts who are donating their time or equipment in the renovating and changing several of the golf holes at the local 249er course.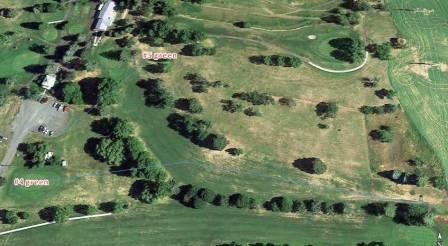 In the late 1950s a new golf club house was being considered and the anticipated locations was to be on and to the south of current #4 green.  To allow play to flow during and after the planned construction, two new greens were planned and built for #4 and a revised #5 along with a tee for #5.
When plans were finalized for the new clubhouse the revision was discontinued.  All work was abandoned, but in later year the planned #4 green was restored as the current chipping/pitching practice green.  The current group of trees between the dogleg corner on current #4 and the pitching green were planted after the revision was cancelled.