Message from the Exalted Ruler
Hoop Shoot was a great event this year. 27 kids participated to compete for the right to represent our Lodge at district which was held in Lewiston a week after
our shoot. One of our winners, Cooper Owen from Genesee, won district in the 12/13 boys group by shoot 20 out of 25. Cooper will go on to state and continue to represent our Lodge. I appreciate all the members who came out to volunteer and root on our shooters!
As I go into my last two months as Exalted Ruler, I want to take a moment to thank those who not only have helped out the Lodge, but also have helped me that past two years. I appreciate everything Wayne Krauss, Brad and Shelley Anderson, George Paris, Pat Dollar, Rick Hull, Sean Dorigo, Steve Meier, Curtis and Alicia Neely, Jess Caudillo, Mike Keating, Ken Jordan and the Board (Travis Lambert, Tyson Barrett, Jerry Curtis, Kevin Peterson, and Joe O'Callaghan), ) have done. Their dedication to the Lodge and community has made my time rewarding and easy. Thank you.
Finally, it is time for our annual Crab Feed. Invitations were sent out in bulk mail, but if you didn't get one, it is not too late to reserve your seat. Contact the Lodge Office ASAP. The Crab Feed is on February 17.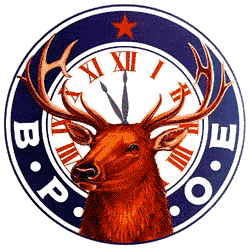 Take care,
Corey Ray, Exalted Ruler