From the Exalted Ruler
Greetings,
I would like to start by clearing up a misunderstanding on my part in regards to the fund  raiser that was held on September 15.  Since my last ER message, I have spoken with Arch Harner, and he conveyed to me that he greatly appreciates everyone's support, however his family is not in need of financial assistance and that any proceeds raised in the fund raiser should go to either the American Childhood Cancer Society or the Anna Schindler Foundation. The Anna  Schindler Foundation particularly helps families in needs with travel expenses associated with cancer treatment.
The event was a success and we raised approximately $800 that will be divided equally between the two charities proposed by the Harners.  Thanks everyone for your support
for a good cause.
Also, I would like to ask for volunteers for the Lodge's gratitude grant project that will take place Saturday October 6th at 8:00am at Robinson Park.  This project will be to work with a local scout troop
to rebuild the outdoor stage.  The lodge will be providing the materials, funding provided by the gratitude grant.  Volunteers will be asked to bring any and all carpenters tools that they are skilled with. For more information contact either Cory Ray or myself.
I would also like to announce that the PERs will be having another Oktoberfest on Friday, October 19th at the lodge, more details to come.  Last year there was great food, great beer, and the casino night afterwards was a lot of fun.  I encourage everyone that can make it to come.  I hope to see you there.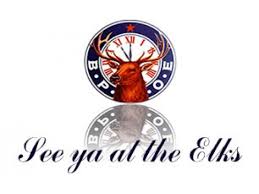 Travis Mechling,
Exalted Ruler