It started with an idea that I had to bring what I do with my Cub Scout family and my responsibilities as the Youth Activity chair for the Lodge.  I am grateful that the Lodge members liked, supported, and eventually carried out collaboration between our two organizations.
Our Project took place on October 6.  Members of our Lodge got together with Cub Scouts from Pack 325
to take on the challenge of replacing the existing outdoor stage at Robinson Park.  This stage was original built by a local Boy Scout for his Eagle project.  Over time, the weather had taken its toll on the stage to where it was becoming a safety hazard due to the wood rotting inside.  Our Lodge applied for and was awarded a $2,000 grant from Grand Lodge to fund the project.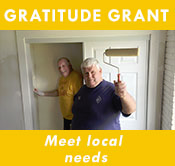 Using Travis Mechling's engineering skills, the Lodge was able to assess what supplies were going to be needed and work with Moscow Building Supplies 
to get the materials to do the job.
It was important that we partner with one of our local Cub Scout Packs (325) to carry out the demolition and building of the stage.  Elks are great supporters of Youth Activities and by working with young Cub Scouts, we achieved several different outcomes.  First, we assisted the Scouts with learning how to use tools in completing the project.  They gained a sense of the importance of serving one's community.  Each Scout each year has do at least one service project to achieve their next rank.  Finally, each Scout earned a sense of accomplishment and their families learn a little bit about our local Lodge in the process.
Although all our volunteers had a great time with the Scouts, Tanya Mechling (Lodge Treasurer) stole the show with a McDonalds lunch break! (Kids and adults alike) In the end, it took less than 6 hours, from start to finish, to replace the stage. Thank you to Wayne Krauss, Travis and Tanya Mechling, and Larry Verdal for their hard work.
Thank you to Sean Dorigo who used his professional expertise and the Gropp Family for donating one of the trailers so we could move materials and debris.
Corey Ray