Message from the Exalted Ruler
Merry Christmas everyone.  This message may be finding you a little late but I hope everyone had a good holiday season.
I would like to announce a few things coming up in the near future.  First, a reminder about the Hoop Shoot on January 5th at the Hamilton Indoor Recreation Center, (the HIRC), doors open at 8:00 AM and the event will start at 9:00 AM.  I will be calling some of you next week looking for volunteers.  If any of you are interested let me know by calling the lodge.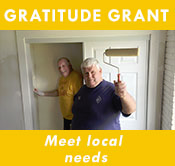 Also, I wanted to announce that we will be applying for a $2000 Gratitude Grant from Grand Lodge.  PER George Paris proposed a great idea of providing food baskets for the elderly.  Food baskets will be comprised of microwavable meals which we will be delivering to the less fortunate elderly in the Moscow area.   I will be asking for volunteers to help delivery meals soon as well.  If anyone would like to help with this endeavor or knows of any good candidates for a food basket please call the lodge and let us know.
Travis Mechling,
Exalted Ruler