The article below appeared in the February 1968 Two Forty-Niner as part of the celebration of our 75th anniversary.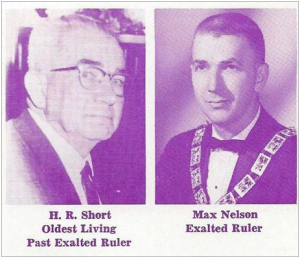 Moscow Lodge N. 249, the first instituted Elks lodge in Idaho, the state itself less than 18 months old, this winter celebrates its Diamond Anniversary.
Moscow Lodge was instituted under a special dispensation from Grand Exalted Ruler E. R. Hays on December 28, 1892, by officers of the relatively young Spokane Lodge No. 228.  Thirty-two men of the raw, pioneer town which was just seeing the launching of a state university of a rolling hill to the west, signed the charter roll.  None of these now survive.
C. S. Scott was its first exalted ruler, serving until the regular elections the following March of the officers who would carry through the affairs of the young lodge its first full year.
Officers of the Spokane lodge accompanied by 15 other members, came to Moscow in a special car attached to the Northern Pacific passenger train to conduct the installation.  They remained overnight as guests of the newest star in the flag of Elkdom, returning to Spokane the next day.
The lodge rented quarters at Third and Main St. for the first 14 years of its existence.  It built what was to be the first unit of its own home in 1905 at a cost of $15,000.  With expansions and several remodeling the lodge home is now valued at more than $300,000.  In later years it has developed a golf course east of town which with a new club house, represents an investment of more than $100,000.
No. 249 confidently looks forward another 25 years when it will celebrate its 100th anniversary.