The 4th of July & B.P.O.E. #249
Historically the lodge was serving a picnic lunch to members and the public, for no fee, at least as early as the late 1920's.  Golf events were a part of severa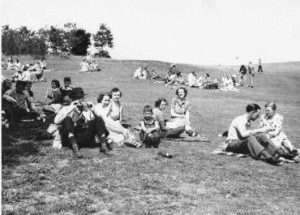 l 4th of July celebrations in the 1940's and in 1950 the Sole Survivor exhibition was first held in its present format at the Moscow Elks Golf Course.  The format has been copied often, but we are the original "sole survivor"/racehorse event in the northwest and, we believe, the longest continuously running golf exhibition/tournament in the area.
The exhibition was a culminating activity following the community picnic, and it was hoped the exposure of the non-member public to the course could increase membership.  Pari-mutuel betting on the results was a part of the program and the golf course garnered significant revenue from the proceeds.  Attendance has ranged from a few hundred spectators to several thousand.
Kids' races were held prior to the tournament and a kids' playground was erected each 4th of July (between #9 and #2) with supervision provided for young children so their parents were free to watch the golf.  Over the years free hot dogs and ice cream replaced chicken dinners.  Coverage of the event was extensive in the local press, both prior to the tournament and following completion.  For several years KRPL provided a broadcast coverage of the tournament as it unfolded.
At various times cart decorating contests, cart parades, long drive contests, putting contests, and "hole-in-1" contests have been part of the pro
cedings.
A flag ceremony has preceded each event with speeches by dignitaries, music from choirs, bands, bagpipes, organs or recorded accompaniment.
Originally players were chosen in a series of qualifying events during the spring, but early on the field became set by the lowest handicapped individuals available.  Several years after the advent of the Moscow Elks Invitational tournament, qualifying became tied to the event.  For most of this period  the top three finishers from the previous year and the current club champion were always exempt from qualifying.
For most of the early years, competitors received one new golf ball for each hole they played with an extra ball for the winner.
During lat
er years the event was limited to season pass holders only, and then to lodge members only.  Also a skins competition was included in the competition along with trophies and other recognition for the winner.
Sole Survivor winners have included U of I baseball & basketball coaches, PGA pros to be, USGA Jr. championship match play qualifiers, College Deans, a Seattle Amateur champ, a Spokane Amateur champ, a former PBA bowler, a former NFL player, a former MLB player, and a whole lot of other folks who held up under pressure and beat the field because of,  — or in spite of — their talent.
As is the glory of golf, winners have ranged from their teens to their 70's.
Over the years a Sr. Sole Survivor, Women's Sole Survivor, and Jr. Sole Survivor have been added on other days near the 4th.  At one point a left-handers' Sole Survivor was also contested.  All of these have been lodge members only events.