yardages (par 35/70)
black tees 3299 yards (6598 for 18)
blue tees 3193 yards (6386 for 18)
white tees 3073 yards (6146 for 18)
red tees 2884 yards (5768 for 18)
#1 — par 4 — 437 yards.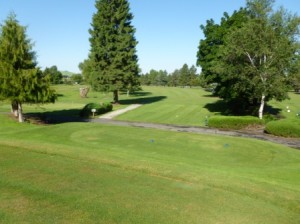 The first hole is a downhill dogleg left, into the prevailing wind, with OB right of the fairway on the tee shot.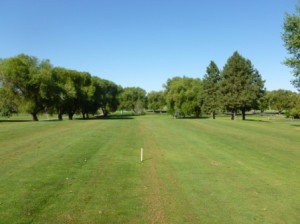 The second shot drops downhill again with water to the right and behind the green.
 #2 — par 4 — 298 yards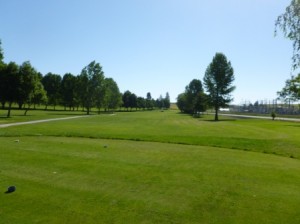 #2 starts with an uphill tee shot across water to a narrow landing area with OB on the right the length of the hole.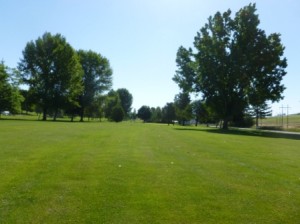 Second shot is to a small target with OB right and grassy bunkers on three sides.
#3 — par 4 — 415 yards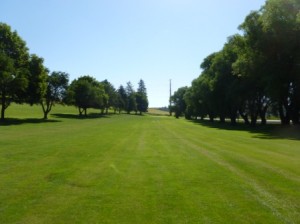 #3 has OB down the full right side, tightening up as you reach 200 yards in and continues to tighten to green complex.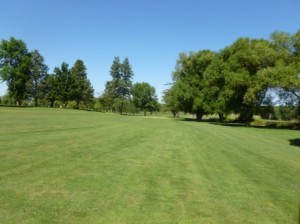 Second shot to a narrow green slanting significantly from left to right and OB right and long.  Sand off left front of green.
#4 — par 4 — 380 yards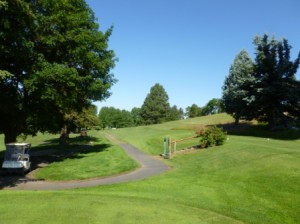 Dog leg right with tee shot to a tight landing area sloping severely right to left.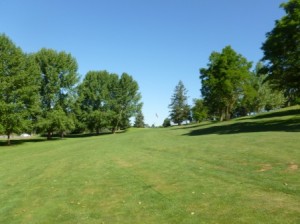 second shot up hill to a green sloping from back to front and right to left with OB over the green.
# 5 — par 3 — 200 yards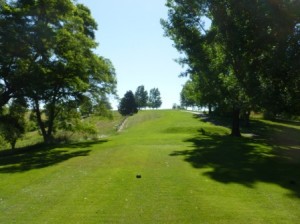 The fifth hole is an uphill par 3 to a ridge top green location with severe drop offs on both left and right sides.  Sand trap located short and left of green site.  Prevailing wind moves ball to the right.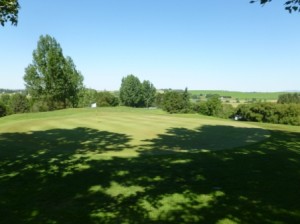 The fifth green is large and the oldest green on the course, with little modification since original building in the late 1920's.
#6 — par 5 — 534 yards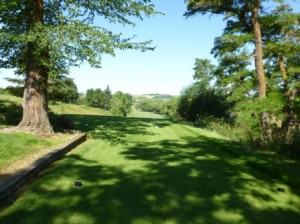 Tee shot on #6 plays down from an elevated tee to a fairway located well below the tee in a valley.  OB left of the fairway off the tee and creek and lateral hazard on right of landing area.  Tee shot plays into prevailing wind.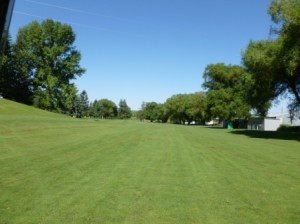 Second shot to a relatively narrow landing area with OB left and creek on the right and OB further to the right.  Sand trap off left front side of green.
#7 — par 4 — 465 yards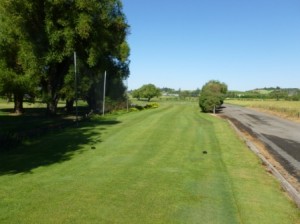 From back tee, shot must be started to extreme right side of fairway to avoid trees left of teeing ground, and a right to left ball flight is required to find center of fairway.  Tee shot crosses water hazard immediately in front of tee.  OB left of fairway and water hazard far right off the tee.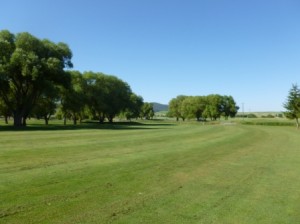 Water hazard crosses fairway angling from inside 50 yards left of green to approximately 200 yards at right edge of fairway.  OB right of the fairway across the creek and running past the green.  Pond in the corner of the dogleg.  Layup area on short side of water narrows significantly within 100 yards of the green.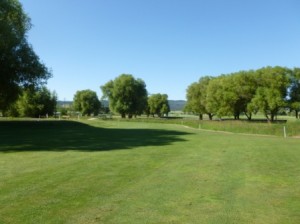 If layup used, 3rd shot crosses water and target has water left of green and OB right.  Green is two-tier with back third elevated.
#8 — par 3 — 175 yards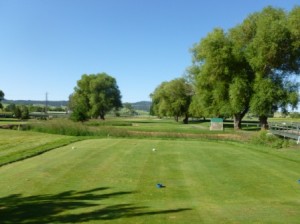 tee shot crosses water in front of tee.  Water parallels the hole on the left and OB is found on the right and long.  Sand trap left side of green near the front.
#9 — par 4 — 395 yards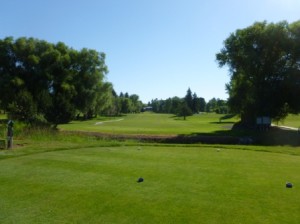 Tee shot over water and up hill.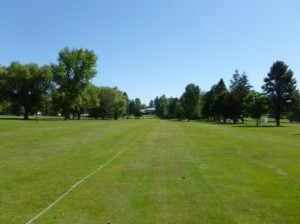 Trees line the approach and OB over green.