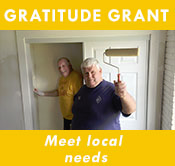 Gratitude Grants are the ENF's way of saying thank you to every Lodge that meets the GER's per member-giving goal to the ENF. These $2,000-$2,500 grants offer an opportunity for Elks to think about how best to serve their community and make it stronger. Last year, 85 percent of Lodges met the per-member-giving goal to the ENF, so start planning today!
Grant Amount: Every Lodge that meets the GER's per-member-giving goal is eligible for a $2,000 grant. Additionally, Lodges in which more than 15 percent of its members donated at least $10 to the ENF in 2016-17 (per the ENF Membership Support Report) will be eligible for a bonus of $500. This bonus will be automatically added to your Lodge's Gratitude Grant application, and you will have the ability to request up to $2,500. Charitable Focus: ENF Grants should always be used for charitable purposes. Keep the following IRS defined categories in mind when planning a grant project: relieve the poor, distressed or underprivileged; advance education; lessen the burdens of government; lessen neighborhood tensions; eliminate prejudice and discrimination; combat juvenile delinquency. Flexibility: If the Lodge is unable to plan an active project, it may use a Gratitude Grant to donate funds or supplies to a charitable organization. Gratitude Grants may also be used for more than one project.
We encourage your Lodge to use its Gratitude Grant in an active way. Choose a project that gives Lodge members a chance to get involved and see the results of the grant first-hand To encourage active projects, each Lodge that applies to use the Gratitude Grant for a donation will receive a followup email from the ENF asking the Lodge to consider more active ways to serve the community. Please read the entire email, and contact the ENF with any questions.
Restrictions: ENF Grant guidelines state that Lodges may not use grants to support State Major Projects, national Elks programs, fund scholarships, Hoop/Soccer Shoot events, youth awards nights, poster and/or essay contests, appreciation dinners, Lodge maintenance and/or repairs, fundraisers, general community events or to benefit Lodge members and their families.