Ladies it's that time of year when we get organized for
our golf league. Our guest night scramble is Wednesday May 17th at 5 PM, with 5:30 PM tee time followed by dinner and social time.  This is the ideal time to come out and see what our league is all about. Please come out and join us for a fun night of golf!  Guest night is for members and guests.
For our league play competition we play a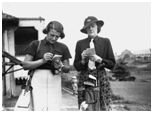 round robin two person match play format during the season.  We also have a non competitive part of league we run concurrently on Wednesdays for gals who want to play golf without being in a competitive league.  We have a shot gun tee-off at 5:30 PM Wednesdays.  Our season runs from late May until mid August ending with our banquet/awards dinner fun night.  League play is limited to Elks and spouses.
For more information please contact
Kathy Christian, Ladies' League Chair
(Comments or questions  left as "comments" to this post or directed to the lodge office will be directed to Kathy    .)